Dominion is one of our favorite games and it also has some of the best expansions of all board games. In this article we list the best expansions. To avoid that this list merely reflects our personal preferences we focus on which expansion adds the most to the game and, in case of a tie between two expansions, on which expansion you should buy first.
Honorable mentions
Because all Dominion expansions are at least of good quality we wanted to give a shout-out to all expansions that didn't make it in our list.
First and foremost we want to mention Dark Ages. We actually think this expansion is great, because it adds 500(!) new cards and lots of cool combo's. So there's a lot going on and Dark Ages is complex in a good way, but in our opinion the set doesn't have as much coherence as the expansions in the list.
One of our all time favorite Dominion expansions is Intrigue. This is the first expansion we bought and its a comfortable continuation of the base set that adds cards that give players a choice between different effects. We still often recommend Intrigue to players that like Dominion and want an expansion that isn't too complicated or adds a lot of tokens and extra elements. But, if we're being honest, Intrigue has been passed by the later expansions that add more interesting cards.
Nocturne is another Dominion expansion that tries to add complexity, but in our opinion it overshot its goal. Especially the new Night phase that happens after the Buy phase, complicates the game too much and really disrupts the normal flow of the game.
Hinterlands and Cornucopia are both fine, but not great. Hinterlands has something going for it with the 'when you gain this…' effects, but overall it feels like these expansions rely too much on the old game mechanics without adding something new. The same thing can be said about Guilds, which adds Coffers, but since Coffers have been included in the number 2 on our list there's no real reason to buy Guilds anymore.
Finally there is Alchemy. We don't have much to say about it, since it is clearly the least popular expansion. It adds Potions to the game, which are a new type of currency. But overall it feels like Potions make the game more complex without actually changing how you play the game.
5. Adventures
Adventures is the first Dominion expansion that we really like and would recommend to our friends. It introduces 30 new Kingdom cards, which is more than average for a Dominion expansion. Furthermore, it introduces 20 Events. Events can't be bought and ut into your deck, but instead can be triggered.
The Expedition event for example, can be triggered at a cost of 3, and grants a player 2 extra cards during his following turn. Some Events are very powerful and can have a big impact on the game.
4. Seaside
Great theme
Introduces Durability cards
Seaside is all about durability cards: cards that do something on the turn you play them, and on the next turn. Durability cards are easy to understand so new players don't get confused by them, and yet it takes expertise to play them optimally. Since the durability cards don't get shuffled back into the deck until after the next turn, players often have to consider whether
Our favorite card from Seaside is the Treasure Map because it fits the Seaside theme so well. You basically need to put two treasure maps in your deck and then find them simultaneously, to find the treasure. And what we like most is that the cards that help you find this treasure quicker, most notably Outpost, fit the same theme very well too.
3. Empires
Landmarks add tons of replay value
Debt is a fun new mechanic
The Empires expansion introduces Landmarks, which change the scoring mechanisms of Dominion. For example, in a game with the Landmark Wolf Den, players get a penalty of three victory points for all cards of which they have exactly one copy in their deck (because when the cold wind blows, the lone wolf dies while the pack survives).
Landmarks thus reshape the game in a fundamental way. This makes it so that if in a Kingdom you only change the Landmark and keep all other cards the same, the game play and dominant strategies may change completely.
In addition to Landmarks, Empires introduces the Debt mechanic. Debt is rather straightforward; some cards can be bought with Debt, which means that you don't have to pay for them now, but you'll incur a debt that you need to pay off before you can buy anything else again. To us, the Debt mechanic is fun at times, but nothing revolutionary.
(Truthfully, Empires is a fantastic Dominion expansion, and it could just as well be number two on our list. We ultimately decided to place Renaissance above it, because Projects mostly fulfill the same role as Landmarks, and we generally just like the cards of Renaissance slightly better. But, this decision is completely subjective and we can't be mad at anyone who prefers Empires!)
2. Renaissance
Projects increase replay value a lot
Adds Coffers and Villagers
Renaissance is the most recent Dominion expansion. Every game is played with two Projects, which can completely change the game strategically. For example, if you pay 8 to activate the Citadel project, the first action card you play in a turn is automatically replayed. This dramatically increases the power of some action cards and may lead you to play a
completely different strategy than you would if Citadel wasn't in the game. The project also combine well with the other expansions and therefore we think that projects add a lot of replay value to Dominion.
Furthermore, Renaissance brings back Coffers and introduces Villagers. Coffers are physical coins that you can save up to spend in future turns, and Villagers are action tokens that serve the same purpose. It is strictly better to get +1 Villager than +1 action, or +1 Coffer than +1 Purchasing power, because Villagers and Coffers can be saved to spend whenever you need them (including during the same turn that you get them). Especially villagers add an extra dimension to games because they can allow for ultra crazy combo's.
1. Prosperity
Enables super quick games
Platinum and Colonies deepen all your games – including those with other expansions
Prosperity concerns extravagant riches for the high end Dominion player. It contains multiple valuable treasure cards, most notably Platinum, which grants a player 5 purchasing power. Furthermore, Prosperity contains several action cards that cost six or seven purchasing power, and Colonies, which are worth 10 victory points.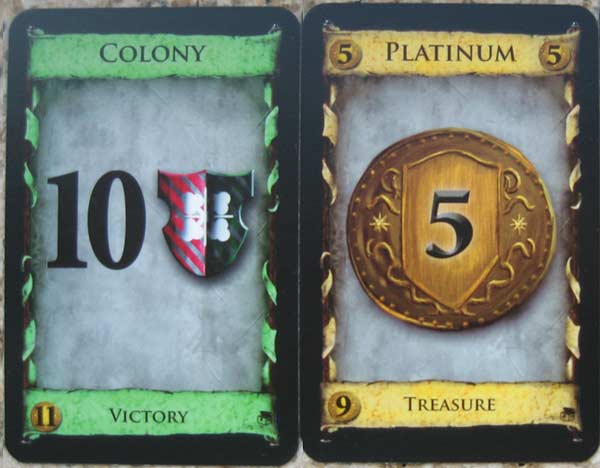 Colonies and Platinum are game changing additions, because they elongate games and make them much deeper. This is especially important for new players who may have trouble dealing with the Big Money problem in Dominion. But it also allows experiences players to set up more powerful combo's than ever before. Even still, players always have to consider whether they want to buy Colonies and play the long game, or to buy Provinces and 'rush' down their opponent. Platinum and Colonies by themselves add an extra level of strategy to any Dominion game and that's why we recommend buying Prosperity before any other expansion.
On top of Platinum and Colonies, Prosperity contains great action and treasure cards. Most notably, Prosperity contains Forgery and Mint, which are some of the strongest trashing cards in the game. These cards are great because they are only effective when a skilled player properly plans how to use them, and they can backfire completely when used incautiously. And one of the biggest upsides of these cards is that they are so powerful that they can potentially speed up games a lot. That's why you can play Dominion within 15 minutes with Prosperity, which is not really possible with any of the other expansions.